PrepAway Overview: How to Attain Cisco CCNP Security Certification?
IT certifications can open exciting opportunities for career growth. Often times, the certification section of your resume becomes an area of interest for the hiring managers and employers. The question is, what kind of impression would you like to give at this point?
It is a fact that Cisco company offers credible and marketable IT credentials. Here's your updated guide to the CCNP Security certification, one of the most valuable Cisco credentials in the contemporary IT industry.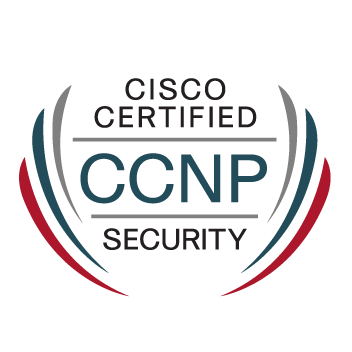 About the certification
The Cisco Certified Network Professional (CCNP) Security certification best suits individuals looking to serve as network security engineers. These professionals are responsible for security in switches, routers, and networking devices. In addition, they also possess the relevant knowledge and skills to choose, deploy, support, and troubleshoot firewalls, DS/IPS solutions, and VPNS for the networks. A valid CCIE or CCNA Security certification can act as a prerequisite for the CCNP Security certification.
How to Certify
You will have to pass four required exams to become CCNP R&S certified. These include:
Implementing Cisco Secure Access Solutions 300-208 SIAS
Implementing Cisco Edge Network Security Solutions 300-206 SENSS
Implementing Cisco Secure Mobility Solutions 300-209 SIMOS
Implementing Cisco Threat Control Solutions 300-210 SITCS
Let's take a look at what these exams cover in detail.
300-208 SISAS Exam
This exam tests whether network engineers know the components and architecture of secure access by using the Cisco TrustSec and 802.1X. The SISAS exam has a 90-minute duration and consists of 55-65 items. Here is the list of topics:
Secure access and identity management (33%)
Identity management architectures (33%)
The architectures of threat defense (17%)
Threat defense (10%)
Reporting, troubleshooting, and monitoring tools (7%)
Cisco highly recommends that all candidates should take the Implementing Cisco Secure Access Solutions (SISAS) course prior to scheduling this exam. It's imperative to have a good understanding of the five key topics tested if you are looking to register positive results at your first attempt.
300-306 SENSS Exam                               
The SENSS exam tests your knowledge regarding the configuration and implementation of security on Cisco network perimeter edge devices. These include the Cisco ASA firewall, Cisco router, and Cisco switch.
With a 90-minute duration, this exam presents 65-75 questions relating to the technologies that are used to strengthen the safety of a network perimeter such as ASA policy and application inspect, zone-based firewall on Cisco routers, Network Address Translation (NAT), and more.
There up to six key topics whose content will likely appear in the exam. However, it's paramount to read widely before scheduling the actual test. The topics include:
Threat defense (25%)
The architectures of threat defense (16%)
Cisco secured CLI management and security devices GUIs (25%)
Management services on Cisco devices (12%)
Reporting, troubleshooting, and monitoring tools (10%)
Security components and considerations (12%)
300-209 SIMOS Exam
This is the third exam in a series of four tests that you need to pass in order to attain the CCNP Security certification. 300-209 SIMOS is intended for network security engineers looking to test their knowledge of a wide range of VPN solutions featured on the Cisco IOS software and Cisco ASA firewall platforms.
SIMOS also lasts 90 minutes. The test is made up of 65-75 questions and checks whether you possess the relevant knowledge required to implement highly secure remote communications via VPN technology. Aspiring candidates can prepare adequately for this exam by enrolling for the Implementing Cisco Secure Mobility Solutions (SIMOS) course.
That being said, this exam tests your knowledge on these key topics:
Secure communications (32%)
Reporting, troubleshooting, and monitoring tools (38%)
Secure communications architectures (30%)
300-210 SITCS Exam
The SITCS exam marks the last part of your CCNP Security certification. It validates a network security engineer's knowledge regarding the advanced firewall architecture. The exam also assesses your skills related to the configuration with the help of next-generation Cisco firewall and utilization of identity and access policies.
The latest revision of the SITCS exam saw the removal of older technologies and the inclusion of Cisco Advanced Malware Protection (AMP) and Cisco Firepower NGIPS. SITCS exam lasts for 90 minutes and consists of 65-75 questions. The list of the topics includes:
Content security (27%)
Network threat defense (22%)
Cisco FirePOWER Next-Generation IPS (NGIPS) (20%)
Security architectures (17%)
Reporting, troubleshooting, and monitoring tools (14%)
Exam Registration
You can register for any of the CCNP Security exams at the Pearson VUE platform. However, it's fundamental to check out the Cisco official website for more information on the latest exam policies before scheduling your tests.
Recertification
The CCNP Security certification is valid for three years. Because of this, it's necessary to recertify every three years to maintain the validity of your credential. Attaining a high-level certification such as CCAr automatically lengthens the validity of your CCNP certification up to the expiration date of the last certification earned.
PrepAway Recommends: The Best Way to Prepare for Your CCNP Security Certification
Good preparation is vital to score excellent marks in your certification exams. PrepAway understands the detailed nature of the CCNP Security certification and exams that go with it. As a result, they provide valuable training materials that are aligned with the demands of the tests.
You can easily get an edge over your competitors by opting for valid exam dumps from PrepAway. Exam dumps from this platform are known to heighten the candidate's knowledge of the key exam concepts. So, thanks to the PrepAway.biz materials, your exam preparation couldn't be easier.
Bottom Line
The CCNP Security certification remains one of the most popular and highly sought-after Cisco certifications across the globe. Hopefully, the mentioned tips will help you get started. Don't hesitate to check out the PrepAway website for more tips for adequate exam preparation.