4 Must-Have Apps for New College Students
If you will be off to college in a few weeks and are excited to start your new journey very soon, then you have stumbled on the right blog. The idea of spending four years on a college campus and having new experiences is exciting, but where college is fun, it has its challenges as well.
There is no denying the fact that you are going to have lots of fun throughout your college years, but along the way, you are also going to need some assistance. Luckily, we are living in an age where we have so many apps available at our disposal that can make our lives easier.
In this article, I have mentioned a few must-have apps that can make the life of new college students easier. Let's take a look:
Soda PDF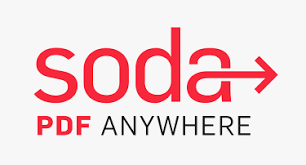 When you are in college, you got your laptop, and on your laptop, you have tons of documents for different courses. It is crucial for college students to manage their documents smartly because if they don't, it will only make studying harder for them.
With the help of Soda PDF, College students can manage their study material, assignments, and other crucial documents efficiently. The app allows you to create, edit, merge and compress PDF documents without any inconveniences. You can manage your course material and create more professional assignments with the help of this tool. Go now and check how Soda PDF can help you compress, edit and convert PDF documents in one click.
Quizlet
Quizlet is a flashcard app that can help you sharpen your mind and gives you a better grip over your course material. It is an amazing app that has flashcards for several different topics, and it also allows you to make flashcards of your own.
It is a great app for group study as you can create your own flashcards and make studying much more fun. You can also use this app when you are studying alone to quiz yourself on the material you have been learning.
Evernote
Evernote is one of the simplest apps out there, but it is also an important one. The app allows you to take notes anytime you want with your phone, tablet, or laptop. You can take notes in text, image, and audio-clip forms and can group all of them together for assistance.
You don't have to worry about carrying a notebook with you all the time, as you can simply use this app to take notes while studying and attending lectures.
Duolingo
If you are also studying a second language in college, then Duolingo is the perfect app for you. The app has made learning languages easier than it ever was. It offers lessons in more than 35 languages and helps you learn to read, write and speak in the language of your choice.
The app is designed quite nicely, and the lesson makes learning very simple. You can also opt for the paid version of the app, which has more lessons and extra features to help you master the language.