How to Recover Deleted Files from Recycle Bin After Empty
Recycle Bin has always been the destination of your files deleted from your PC, except that the shortcut key-Shift + Delete is used. It will be fine if your deleted files can be spotted in it, so they can be easily restored from it. However, what can you do if you empty the Recycle Bin? Are all my files lost forever? Please don't worry because you have us. Today, we will teach you how to recover deleted files from Recycle Bin after empty. Moreover, the solutions mentioned here prove to be free and practical. 
Words Before Recycle Bin Recovery
Can I recover deleted files from Recycle Bin?
Well, yes. Your files are normally not erased from your storage media physically when the Windows operating system deletes them. Therefore, the lost files can be recoverable even if the Recycle Bin is emptied though they can not be viewable or accessible.
As a result, the significance of Recycle Bin recovery is to retrieve the lost files before new data overwrite them. To fulfill this objective, you should STOP USING your computer immediately, set out for your recovery at once and re-use it until the restoration finishes.
So how to retrieve deleted files from Recycle Bin after empty? We will present some methods to recover cleared files from your Recycle Bin if you act quickly.
How to Recover Deleted Files from Recycle Bin After Empty
Here are three helpful solutions to bring back deleted files from Recycle Bin after empty:
1. How to Recover Deleted Files from Recycle Bin After Empty by Data Recovery Software?
Well, the fastest and most guaranteed way is to use data recovery software to restore your deleted files from Recycle Bin effortlessly and quickly. We are aware that there are various options in the market now, so we would like to save your time by introducing you to the one we are now trying-WorkinTool Data Recovery.
Please follow these steps to retrieve your lost files in Recycle Bin with WorkinTool Data Recovery:
Step 1. Open the tool and pick a scene for recovery.
(You can switch it to Scene Mode if the opening interface is Wizard Mode.)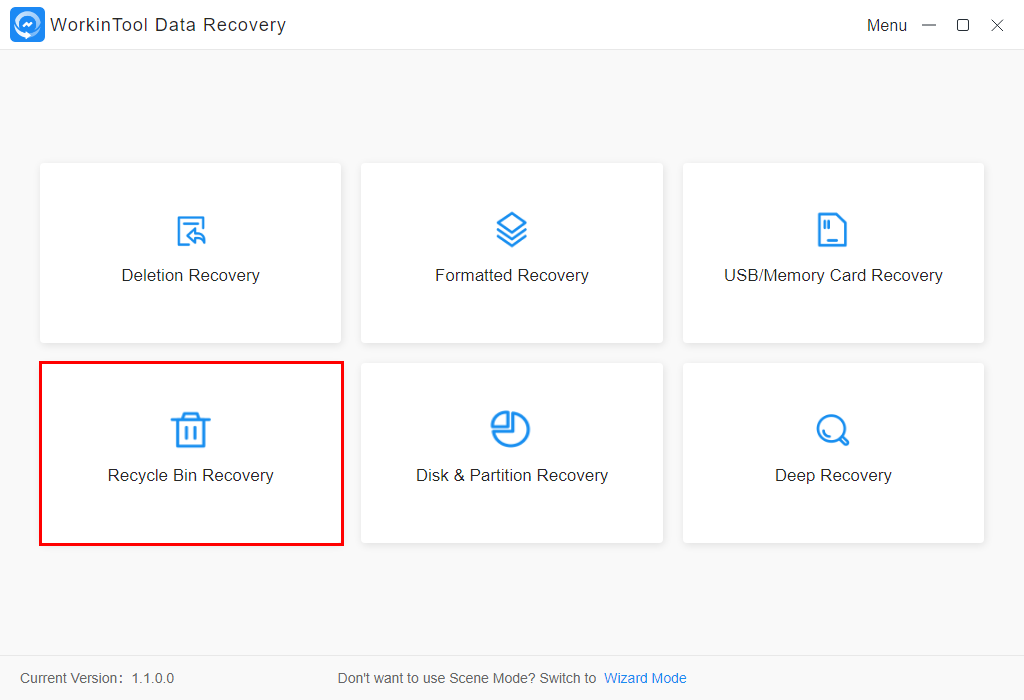 Notes:
Deletion Recovery: It is designed to recover the deleted files from the Recycle Bin.
Format Recovery: It aims to get back the lost data from formatted devices like SD cards, disk partitions, etc.
USB/Memory Card Recovery: It helps to bring back removed files from mobile devices like USB, HDD, memory card and more.
Disk Partition Recovery: Repair file loss due to missing disk partitions.
Deep Recovery: A more complete and time-consuming scanning mode will be adopted to find the deleted or lost files in order to maximize the recovery effect.
Step 2. Choose the location where your files are stored initially and then click Scan Now.
Step 3. Two methods are available to get back your erased files from Recycle Bin.
Method 1: Open Filter, choose the desired file format(s) and then navigate to Sure > Recover.
Method 2: Tick the wanted file type and then click Recover.
PS: Deep Scan is available if you are discontent with the recovered files presently.
Step 4. Decide your save path and then hit Sure.
Step 5. Click Open to get down to the recovered files.
Additional Words
An Overall Review of WorkinTool Data Recovery
WorkinTool Data Recovery is another valuable member of the WorkinTool product family. It captures the users' minds instantly with its simple design and professional function. Thanks to its lightweight interface, you are able to operate it even if being a green-hand IT user. Besides, it proves to be a practical tool to recover all the common data on your computer, including:   
| | |
| --- | --- |
| File Formats | Extension |
| Documents | .doc, .docx, .dotm, .xls, .xlsx, .ppt, .pptx, .txt, .pdf, .css, .html, .csv and more |
| Videos | .mp4, .avi, .mkv, .m4v, .wmv, .m4a, .mov, etc |
| Audio | .mp3, .wav, .flac, .wma, .ogg, .mid and more |
| Pictures | .jpg, .png, .bmp, .tif, .gif, .ico, .svg, .psd, .nef, .esp, .wmf, etc |
| Archives | .zip, .7z, .rar, . iso, .jar and more |
| Email | .pst, and .edb |
| Database | .dat |
For most of its recovery features, it takes you approximately five steps to retrieve and recover unlimited data in batch, which effectively enhances your working efficiency. Furthermore, partition recovery is available for you to get back the deleted files as a result of missing disk partitions. The successful recovery rate will be 99.9%.
Here is some specific information for your reference:
Price: 100% FREE
Green: Yes (No Ads)
Supported OS: Windows 11, 10, 8 and 7.
Our Verdict
Reasons for Having It
Reasons for Declining It
Lightweight and simple interfaceEasy recovery processBatch processing availableUnlimited data restorationMultiple file formats supported100% free currentlyGuaranteed data privacy and information security
Limited supported OS
2. How to Retrieve Lost Files from Recycle Bin using Bakcup
It is possible to get back the lost files from Recycle Bin with the help of backup if your computer does not overwrite your data and you have the habit of backup.
Here is what you should do:
. Type File History and then click Restore your files with File History.
. Then hit the button-Restore personal files.
. Choose the file type and find your desired files in it.
. Press the green button below after all your lost files are selected.

3. How to Restore Deleted Files from Recycle Bin with the Command Prompt
Your deleted files may be restored by using the command line on your Windows system. Please follow the instruction below:
Step 1. Open a Command Prompt on your Windows PC or laptop.
Step 2. Type chkdsk "drive letter": /f and click Enter: chkdsk D: /f
Step 3. Press Y until the command line reappears.
Step 4. Type the drive letter where you think your lost files are and hit Enter.
Step 5. Copy the following command: ATTRIB -H -R -S /S /D D:*.*
These commands can be helpful to display hidden folders that may contain your lost data. Filenames will be displayed in generic form, so you may find it hard to determine whether the desired files have been recovered.
How to Prevent My Files from Being Deleted from Recycle Bin
Frequent Emptying
You should always check your Recycle Bin before emptying it each time so as to avoid the situation that some mistakingly deleted files are erased permanently. Meanwhile, only empty your Bin sparingly.
Limited Space of Recycle Bin
Storage space of the Recycle Bin is by no means unlimited. When the size of the Recycle Bin folder is within the allocated amount, newly deleted files will fail to be put into the Recycle Bin. Instead, they will become permanently deleted.
Physical Hard Drive Damage
The primary Recycle Bin folder is stored on the system drive, so the Recycle Bin folder will be impossible to access if the system drive suffers from physical damage.
System Cleanup
When system cleanup is performed by a built-in Windows feature-Disk Cleanup or a third-party program, the Recycle Bin will invariably be emptied to release more storage space. Therefore, always check it up before you clear your computer for more space.
Wrapping up
This is our discussion on how to recover deleted files from Recycle Bin today. We sincerely hope that you can pinpoint the ideal one after reading this article. However, WorkinTool Data Recovery will always be a wise choice.
Now, are you prepared to restore all your lost files from Recycle Bin?