Microsoft Office 2019 Free Download and Activate
After a series of preview versions, Microsoft finally came out with an official version of Office 2019. It is stable one, this means you can download and use it right now without worrying about fatal errors which you have gotten in beta versions before. However, I regret to inform that according to the disclosures, Microsoft Office 2019 only works on Windows 10. So if you are using Windows 8.1 or older versions, you will not be able to install it. Honestly, I hate what Microsoft have done to force users to use Windows 10. And I think Office 2016 is still a good choice for casual users.
To download Microsoft Office 2019 you click these links:
You can see the link to download Office 2019 ISO from Microsoft
I also Microsoft Office 2019 product key. If you want to buy it, you can visit https://cheapproductkeys.com/
How to

installing Office 2019
Step 1: After the download process is complete, you will get an image file. You just open it then run the setup file to install Office 2019 on your PC ( Setup.exe )

Step 2: This may take a while, please wait.
Upon successful installation, you can open any Office program to verify some basic information.
After install MS Office 2019, you have 5 days to use it.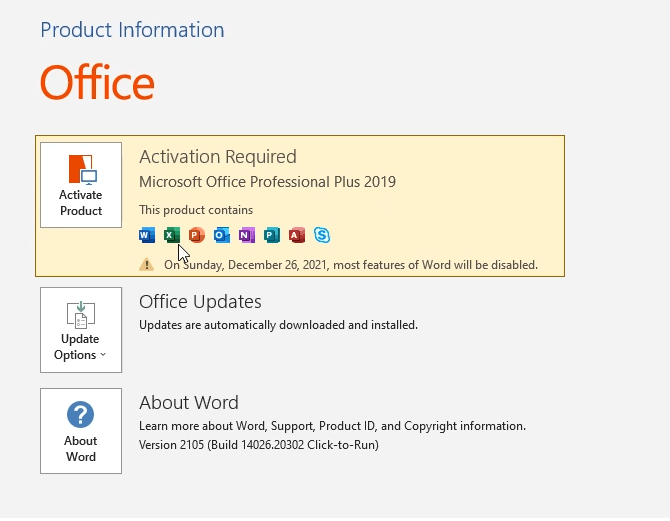 How to activate Microsoft Office 2019 for free 2021

(180 days)
You can read these articles to know:
Applies to: Volume licensed versions of Office 2019 and Office 2016, including Project and Visio
(Source: Microsoft office 2019 activation key free)
So if you want to use it you convert Office 2019 retail to volume one.
You can watch this video to know how to activate Microsoft Office 2019 without product key for free 2022:
Step 1: You open cmd (run as administrator) then you paste these codes:
cd /d %ProgramFiles%\Microsoft Office\Office16
cd /d %ProgramFiles(x86)%\Microsoft Office\Office16
Then you enter.
Step 2: You convert your Office 2019 retail license to Office 2019 volume license
for /f %x in ('dir /b ..\root\Licenses16\ProPlus2019VL*.xrm-ms') do cscript ospp.vbs /inslic:"..\root\Licenses16\%x"
Then you enter.
If your Office is got from Microsoft, this step is required. On the contrary, if you install Office from a Volume ISO file, this is optional so just skip it if you want.
Step 3: You activate your Office by using the KMS client key
cscript ospp.vbs /inpkey:NMMKJ-6RK4F-KMJVX-8D9MJ-6MWKP
cscript ospp.vbs /unpkey:BTDRB >nul
cscript ospp.vbs /unpkey:KHGM9 >nul
cscript ospp.vbs /unpkey:CPQVG >nul
cscript ospp.vbs /sethst:s8.uk.to
cscript ospp.vbs /setprt:1688
cscript ospp.vbs /act
Then you enter.
Right now the Office is activated successfully.
Tag: Microsoft word 2019 free download, Microsoft excel 2019 free download, Microsoft office 2019 free download, download Microsoft office 2019 free full version, Microsoft Office 2019 Free Download for Windows 10, Microsoft Office 2019 download, Microsoft Office professional plus 2019 download, Microsoft Office 2019 product key free
Read more: