iBoysoft MagicMenu Review: A Useful Right-Click Menu Enhancer to Customize the Right-Click Menu on macOS
macOS just offers a few options in the Mac right-click menu. If you are not satisfied with the default options listed in the context menu and want to customize your right-click, you can get help from a Mac right-click menu enhancer named iBoysoft MagicMenu to extend your right-click menu alternatives.
As its name implies, iBoysoft MagicMenu is a small utility related to Menu customization. It serves as a Mac right-click menu enhancer to help you take better control of your right-click menu on Mac running macOS 10.13 High Sierra, macOS 10.14 Mojave, macOS 10.15 Catalina, macOS 11 Big Sur, and macOS 12 Monterey.
It adds useful shortcuts to the right-click context menu on Mac including New File, Move To, Copy To, Quick Access, Common, Launch with, and Screen Capture, which permits you to create a new file, move/copy a file to a target location, access a file, and more quickly with a single right-click. It's really a great application to improve work efficiency.
Main Features Offered by iBoysoft MagicMenu
Create a New File
When you right-click your mouse on an empty area on your Mac desktop or in an open folder, iBoysoft MagicMenu allows you to add a shortcut to generate a new file that you commonly use, such as doc, docx, xls, xlsx, txt, pdf, ppt, Keynote, Pages, Markdown, and Numbers without opening an application to perform new file creation.
In addition, the iBoysoft Mac right-click menu enhancer also enables you to additionally import a blank or already-edited template file from a local location as a shortcut if the desired file formats are not included by default.
Move/Copy Files Quickly
Usually, you get accustomed to selecting and dragging a file to move it to a target destination as well as copying and pasting a file from one folder to another by using the Command+C shortcut and Command+V shortcut. With the built-in Move to/Copy To features, you can add folders to both menus to quickly move and copy files to a target location quickly with a single click.
Support Quick Access to an Item
Equipped with the Quick Access function, iBoysoft MagicMenu provides you with the ability to add applications, folders, disks, browsers, and web pages to your Mac right-click menu, making it easier for you to access the apps, work files, web pages, and other items you frequently use.
Other Versatile Functions
Of course, iBoysoft MagicMenu is not limited to the above-mentioned functions. Many other functions are also included in its Function Library, including Copy Path, List Hidden file, Cut File, Launch with (Terminal, VS Code, iTems2, HexEdit, etc.), Screen Capture, Screen Recording, and more. What's more, you can opt to create user-built functionality and manage categories to personalize your Mac right-click context menu.
Bonus: iBoysoft MagicMenu Is Giving Away!
Partnering with iBoysoft, a company focusing on data recovery and disk management solutions, we are giving away iBoysoft MagicMenu from November 23, 2022 to November 29, 2022. During the giveaway campaign, everyone has the chance to free get a 1-year license key to iBoysoft MagicMenu. Here is the step-by-step guide helping you to activate iBoysoft MagicMenu for free:
Step 1: Free download iBoysoft MagicMenu using the download link given below.
https://download.iboysoft.com/download/downloadfile.php?p=magicmenu&d=getproductkey.net
Step 2: Follow the on-screen wizard to install this program on your Mac and make it launch after the installation.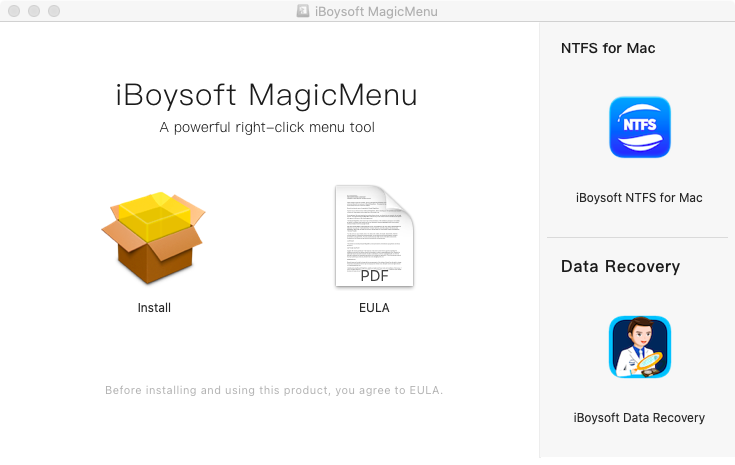 Step 3: Click the Purchase & Activate button on the software interface, input the giveaway license in the pop-up box, and then click the Activate button to activate this Mac right-click booster.
64C8A4E064C9A46264C9A4FE0B045E02
Now, you can begin to customize your Mac right-click menu according to your preferences with the activated Mac right-click menu enhancer!