How to Rip DVD to MPEG2 Easily?
With the rapid development of media technology, many new formats are becoming more and more popular, such as DIVX, MPEG4, MPEG2, etc. These formats do have their advantages and indeed play an important role in today's information transmission.
However, if you don't have the right equipment at home to play files in formats that make sense to you, and you only have a DVD player at home, you'll need to change those formats to MPEG2.
Maybe before we do that, we should have a good understanding of what these terms are defined and how they relate. MPEG, which stands for Moving Picture Experts Group, is the name for a set of standards for encoding audiovisual information (that is, movies, music, and video) in a digitally compressed format. The main advantage of MPEG over other video and audio encoding formats is that MPEG files are much smaller for the same quality. Currently existing standards include MPEG-1, MPEG-2, MPEG-3, and MPEG4. MPEG-1 is the standard for CD-ROM video and audio. MPEG-2 is a standard for full-screen, broadcast-quality video. MPEG-4 is the standard for video telephony.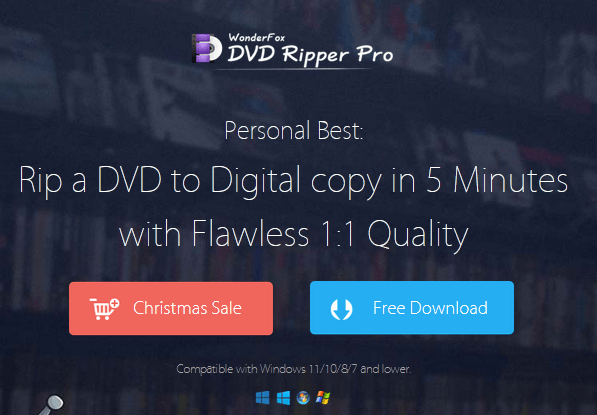 How to Rip DVD to MPEG2 Easily?
WonderFox DVD Ripper Pro is a professional and fast DVD ripping tool very suitable for ripping DVD to MPEG2 video. It can decrypt DVD protection and convert DVD to mainstream video formats without loss of quality, such as MP4, MOV, VOB, WMV, AVI, MKV, M4V, FLV, 3GP, MTS, M2TS, etc. At the same time, it also has the fastest ripping speed, about 5 minutes to rip a 2-hour movie. Without further ado, let's start ripping DVD to MPEG2.
Step 1: Download the software and import the DVD source.
After downloading the software from the official website and installing it on your PC, insert the DVD into the computer and start WonderFox DVD Ripper Pro. Next select the DVD source – DVD disc to load the DVD movie. The program will automatically remove encryption protection and mark all main titles.
Step 2: Choose the suitable output format.
On the right side of the interface, click the "Output Format" button to open the format list. Then select MPG as the output format under the "Video" tab.
Step 3: Start to rip DVD to MPEG2.
Before converting, you can adjust the subtitle and audio track of DVD video and edit DVD according to your needs. When everything is ready, choose an output folder at the bottom of the program and click "Run" to convert DVD to MPEG2.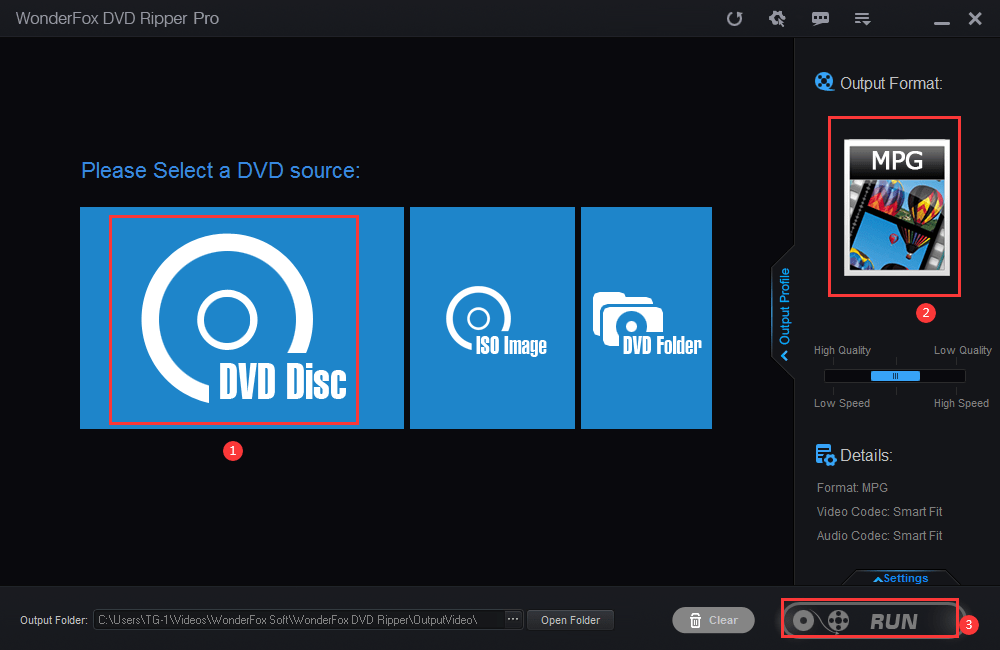 Intelligently finds main movie from 99 titles.
Add subtitles to DVD movies.
Extract audio from DVD.
1:1 rip DVD Disc to DVD Folder and ISO Image.
Convert DVD to digital devices, such as phones, tablets, laptops, desktops and much more.
Edit DVD as you wish, clip, crop, trim, rotate, merge, cut, add effects, etc.
Perfect balance of size, output quality and speed.
Pros
Provide a variety of output formats and devices.
Fast processing speed.
Excellent output quality.
Cons
Only Windows devices are supported.
Final words
If you want to rip DVD to video format with the best quality, MPEG2 is the best format. And WonderFox DVD Ripper Pro is the best tool for ripping DVD to MPEG2, it not only bypasses DVD protection at the fastest speed, but also provides high-definition output quality. Most importantly, it is equipped with more than 300+ output formats and devices. It's also surprisingly performant if you want to do custom editing of the output file. However, we do not recommend that you use it to rip DVD illegally, please use it within the scope permitted by copyright law. Thanks for reading!