8 Best Video Converters for Windows 10 as of 2023
A video converter for Windows 10 is used to convert one type of video file like an MKV, MP4, MOV, WebM, AVI, HEVC, or VP9 into another type of video file.
Video content has become an integral part of our daily lives. We consume videos on various platforms such as YouTube, Vimeo, Udemy, TikTok, and social media every day for either fun or knowledge. With cameras and smartphones making photography a breeze, we now take more videos than ever before.
However, videos may come in a wide variety of different formats – MP4, MKV, WebM, MOV, M4V, H.264, HEVC, VP8, VP9, ProRes, and so on. Not all video formats are compatible with all devices or platforms. With a capable video converter for Windows 10, you can easily convert the format of your videos to any format you need. This ensures you're able to enjoy seamless playback on media players, share your videos on popular social media platforms, and edit them without compatibility issues. We've rounded up the best video converters for Windows 10. Read on to pick one that suits your needs best and you'll be converting your video files in no time.
VideoProc Converter is your best bet if you're looking for something that can help you convert video and audio files to any format on Windows 10 in a flash while keeping maximum quality. It can convert virtually all formats on the earth, including social-media-friendly ones like MP4 and MOV, editing-friendly ones like CineForm and ProRes, and long-GOP H.264 and HEVC created by iPhone, DJI, and GoPro. Thanks to the support of the High-Quality Engine, the conversion won't compromise the quality. Video remix is also supported, namely you're able to change the video format from one to another in a second without transcoding or quality loss.
The primary advantage VideoProc Converter has over its rivals is that it supports level-3 GPU acceleration tech, enabling you to convert 4K UHD, 1080P HD, 120FPS, and high bitrate videos at 47x faster speed while keeping a low CPU usage. More than a robust video converter, VideoProc Converter is also a reliable video downloader, a fast video compressor, an easy video editor, a high-quality screen recorder, and much more.
You can buy VideoProc Converter license key (lifetime) for $25/key/pc here: https://taloshop.xyz/ban/product/videoproc-converter-license-key-lifetime-subscription/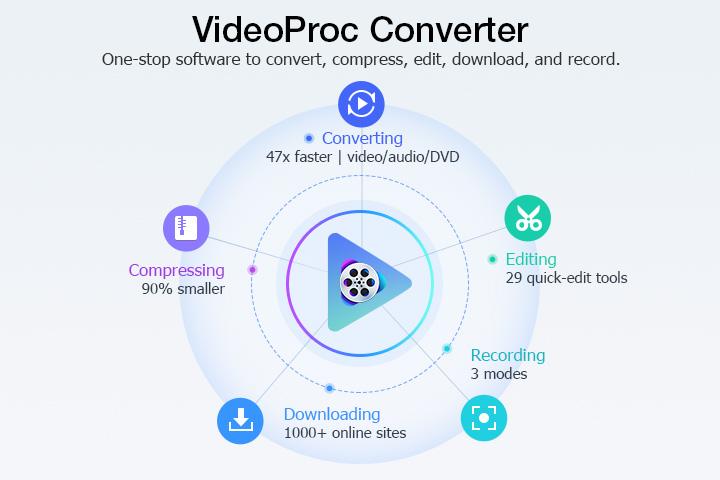 HandBrake
HandBrake was originally designed as a DVD ripper that helps you rip copyright-free DVDs to digital formats for playing everywhere. Thanks to the support for inputting MP4, MOV, AVI, WMV, and dozens of other popular video formats and a variety of video encoding options, it's also an excellent choice for users who want to convert video files on Windows 10 and other major platforms without paying a dime. Even better, this free video converter for Windows 10 can make use of your dedicated graphics card to accelerate the conversion process. Sadly, it only lets you output MKV, MP4, and WebM, namely you're not allowed to convert your video files to AVI, MOV, WMV, ASF, MP3, FLAC, AAC, and other trendy formats.
Freemake Video Converter
If you're looking for a simple video converter for Windows 10 that can help you convert video files for playing on ancient devices like iPad 3, iPhone 4, and PS Vita, then Freemake Video Converter might be your best bet. It comes with a self-explained interface that's easy for beginners to put their hands on and supports tons of ready-made output profiles for iPhone 2018 devices. Unfortunately, it doesn't offer presets for recent popular devices like iPhone 12/13/14, PS5, and Discord. Don't mislead by its name, Freemake is not a free video converter. It puts a Freemake watermark on the exported video file and requires you to upgrade to Freemake Gold Pack which costs 19 USD.
Shutter Encoder
Shutter Encoder is a fantastic video converter for Windows 10 that can convert video and audio files to tons of prevalent digital and DVD formats, including MP4, MOV, MKV, AVI, Xvid, and H.264. It's a great option for advanced users who want to convert video files as well as do a few more extra things, for example, adjust the video codec, apply LUTs, add watermarks, and embed subtitles, inside the program. Sadly, if you are unfamiliar with video encoding, you should be prepared for a steep learning curve that may take weeks to master.
Avidemux
Avidemux looks as if it's a phased-out tool with a very out-of-dated interface. However, if you're looking for a lightweight video converter that can convert video files on Windows 10 while giving you full control over the output file, Avidemux won't disappoint you. It lets you convert between a handful of video and audio formats such as MP4, AVI, WebM, and MP3. You have options to adjust a number of sophisticated encoding settings including the profile of video encoding, GOP size, average bitrate tolerance, and aspect ratio. Due to the lack of ready-made output profiles for popular platforms and devices, users have to customize output encoding settings manually. Beginners? You are almost bound to feel overwhelmed. You're not allowed to convert video files to MOV, WMV, 3GP, Cinepak, VP8, and a few other common formats.
WinX HD Video Converter Deluxe
WinX HD Video Converter Deluxe allows you to convert hundreds of popular and rare video and audio formats, including MP4, MKV, MOV, WebM, MP3, etc., and transcode them to any key video format. It's also a GPU-accelerated video converter for Windows 10, with which you're able to convert large and long 4K files while keeping a relatively low CPU usage rate. The conversion speed is also beyond the average. To speak of its drawback, it doesn't come with many extra features. You're not allowed to rip DVDs or record screens. It only gives several basic video editing options like trim, crop, and subtitles.
Vidcoder
Vidcoder is an easier alternative to HandBrake. This open-source and free video converter for Windows 10 functions almost the same as the mentioned HandBrake, allowing you to convert videos and home DVDs to MP4/WebM/MOV, burn videos to DVDs, and customize video encoding parameters. What sets VidCoder apart from HandBrake is the self-explained UI. Beginners can navigate the interface and manage their conversion quickly and effortlessly. Be aware, this free video converter for Windows 10 won't help you convert videos to AVI, MKV, WMV, 3GP, or audio files in whatever formats. Additionally, converting video files with VidCoder takes a large amount of computer resources which might slow down or freeze up your Windows 10 PC.
FFmpeg
FFmpeg is the top pick for advanced users and tech savvies to convert video file formats from one to another. It can perform a range of video-related tasks, including video conversion, video compressing, and video editing. Although it is not clear how many video formats FFmpeg supports, we can confirm that during our tests, it was able to recognize and process all the audio files we threw at it, regardless of their rarity. Give a caution, this free video converter for Windows 10 operates through the command line, as opposed to other GUI software. This offers flexibility to power users to customize conversions to their preferences but poses challenges for novice users.