Download Windows 11 ISO (Trial Version)
You can either download the ISO files for Windows 11 and then use them to install/upgrade a PC to Windows 11, or you can use the Installation Assistant to upgrade your PC to the latest version available.
Microsoft Windows 11 Download (English version)
I also sell:
If you want to download Windows 11 with other languagesm you can use this method below:
How to download Windows 11 iso file from Microsoft (all language)
Step 1: You go to https://www.microsoft.com/en-us/software-download/windows11
Step 2: You scroll down the page and you select "Windows 11 (multi-edition ISO)" from the drop-down menu under Download Windows 11 Disk Image (ISO) and then you click Download.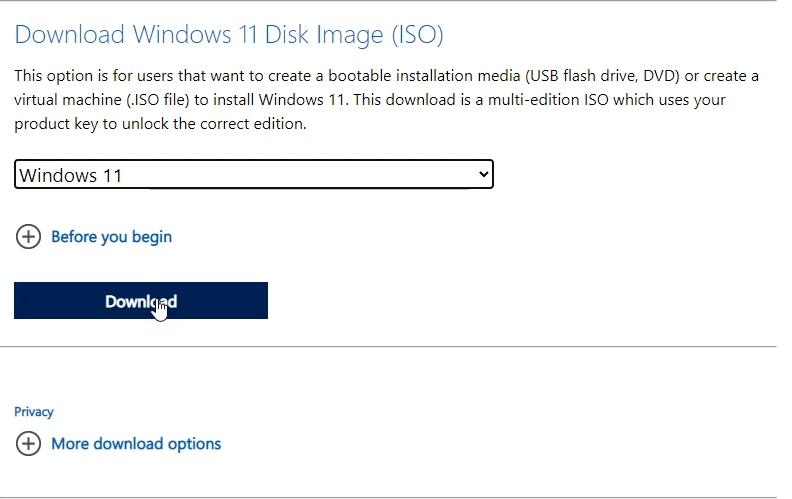 Step 3: You select the language you want to download Windows 11 in from the drop-down menu and then you click Confirm.
Step 4: You click the 64-bit download button, and your Windows 11 ISO download should now begin.
You can watch this video to know how to download Windows 11 for free from Microsoft:
This Windows 11 iso file include Windows 11 Home, Windows 11 Pro, Windows 11 Education, Windows 11 Pro for Workstation
Windows 11 system requirements
| | |
| --- | --- |
| Processor: | 1 gigahertz (GHz) or faster with 2 or more cores on a compatible 64-bit processor or System on a Chip (SoC) |
| RAM: | 4 gigabyte (GB) |
| Storage: | 64 GB or larger storage deviceNote: See below under "More information on storage space to keep Windows 11 up-to-date" for more details. |
| System firmware: | UEFI, Secure Boot capable |
| TPM: | Trusted Platform Module (TPM) version 2.0 |
| Graphics card: | Compatible with DirectX 12 or later with WDDM 2.0 driver |
| Display: | High definition (720p) display that is greater than 9" diagonally, 8 bits per color channel |
Tag: Windows 11 iso download, windows 11 download iso, windows 11 iso download microsoft, download Windows 11 iso from Microsoft